According to the official stats, more than 500 million people use Instagram on a daily basis. 80% of this social media channel users are subscribed to at least one business profile, while 60% of users go to Instagram for shopping. This apparently means that building a presence on Instagram is one of the first-priority activities for any brand of today.
5% of Instagram users will interact with a post they like. Such actions may include completing a purchase, clicking a link in the description, or post shares. By using hashtags, you get to engage users in a conversation/discussion of a promoted product/service.
Today, Instagram allows users to add specific posts on websites or blogs effortlessly. However, this turns out to be inconvenient if your Instagram business page gets updated constantly, and multiple posts are made every day. In such a case, you'll need to make code adjustments each time a new Instagram post gets published.
With that in mind, we've prepared a step-by-step guide on how to easily (and for free) add an image gallery or a video from your Instagram account to your Shopify store and configure it based on your personal preferences.
Step-by-Step Guide on Embedding Instagram Feed to Your Shopify Store
Step 1. Making adjustments to your current Shopify theme
1.Log in the Admin Panel of your Shopify store. Then, go to Online Store → Themes. In the drop-down Actions list of your theme ― you wish to add the Instagram feed to ― click Edit code.
We can see the published theme on the following screenshot: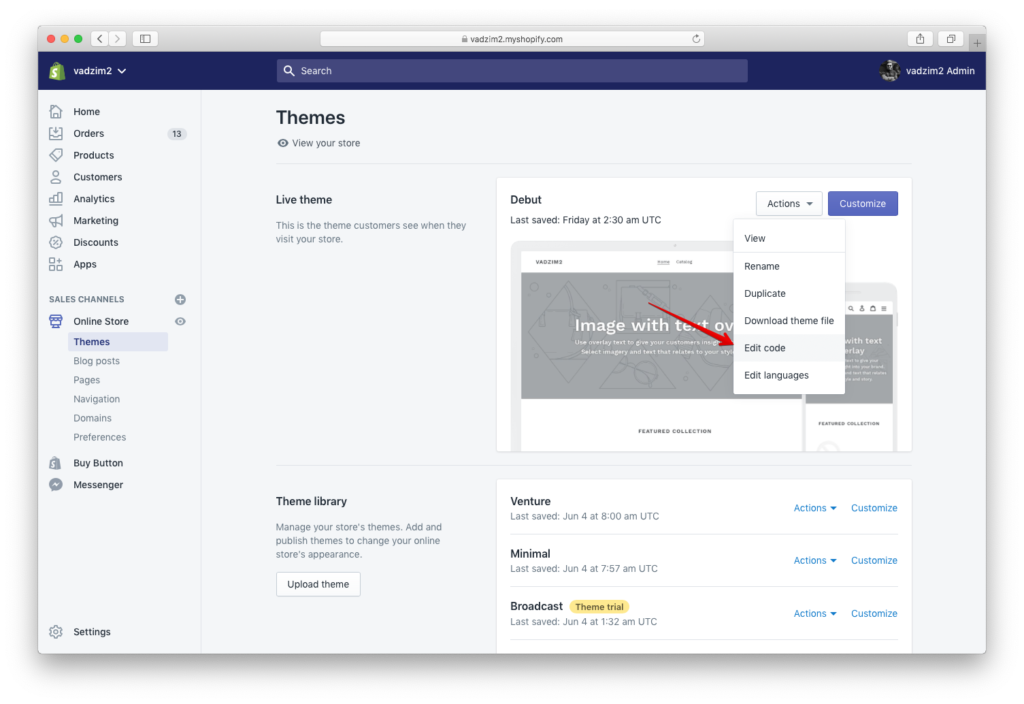 2. In the Sections folder, click Add a new section.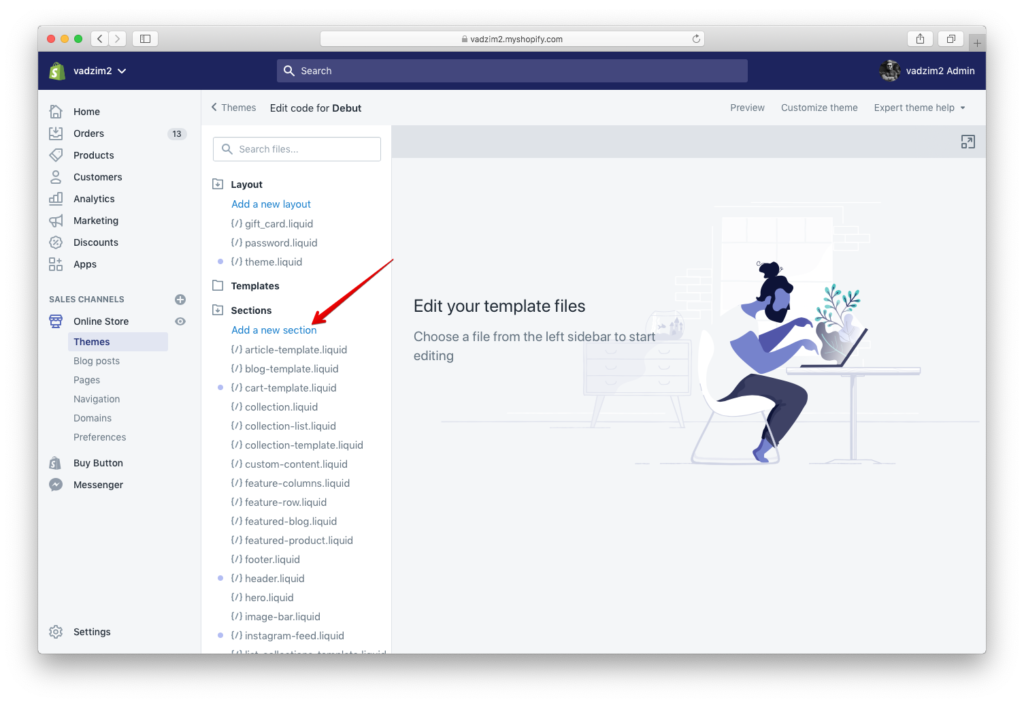 3. Enter the name of the section ― Instagram-feed ― and click the Create section button.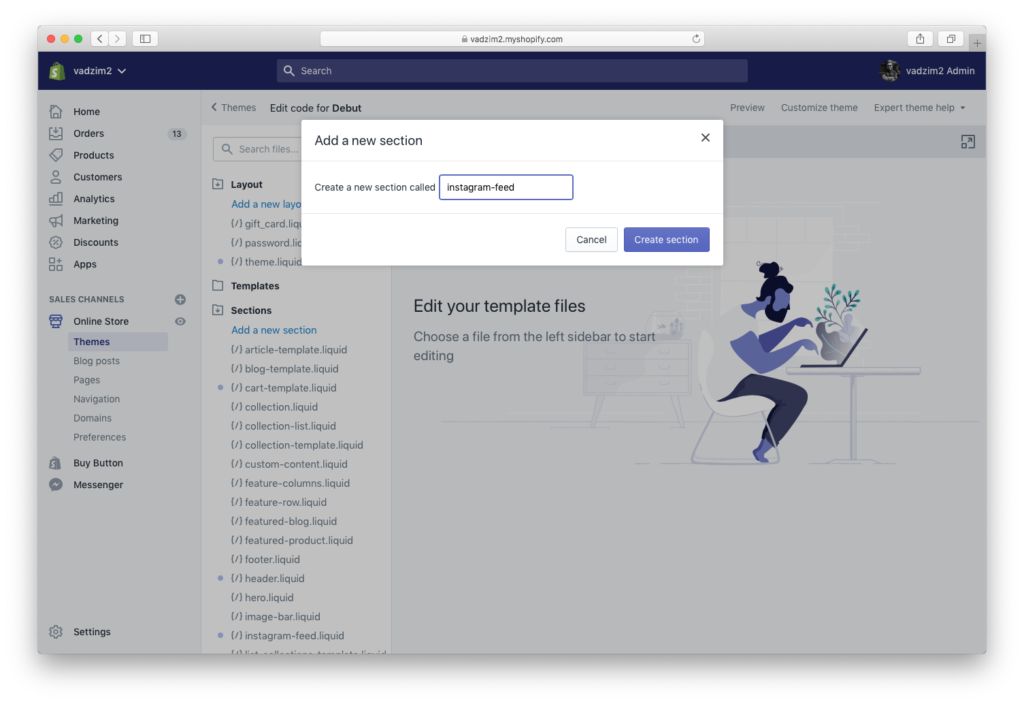 4. Paste this code in the created instagram-feed.liquid file and click Save.
Step 2. Getting an Instagram access token
To make the feed display content from your Instagram account, you'll need to get a unique access token. To do that, access our free of charge app that has been developed specifically for this purpose and obtain the required access token in a click.
Follow the link: https://appstore.mageworx.com/instagram-access-token.html and click Get Access Token.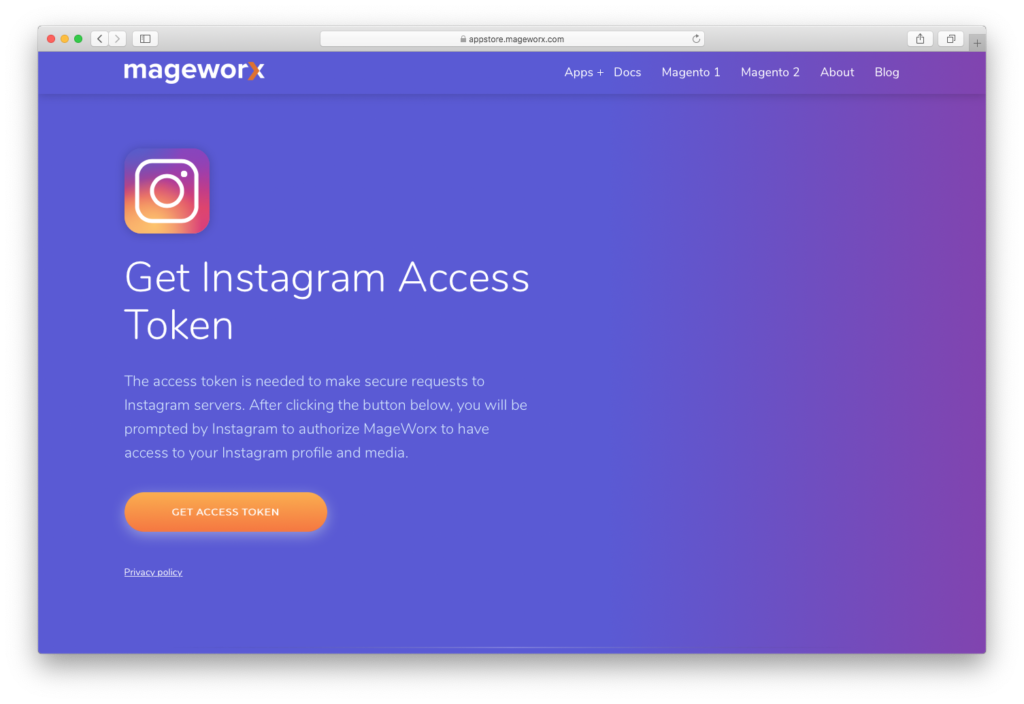 2. Instagram will request you to log in and authorize our app.
3. As soon as you permit access, the app will get access to the public content of your account. You will be redirected back to the page with our app. There, your access token will be specified in the text field. Save it. We will need it a little later.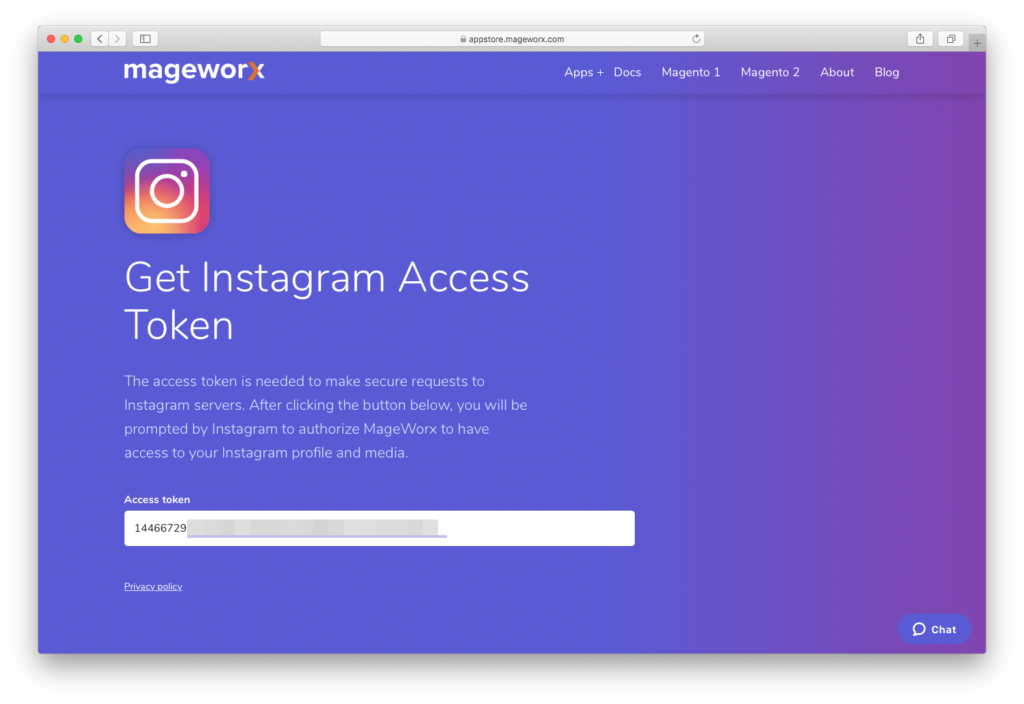 Please note that our app does NOT collect, store, or transfer your data to any third parties, including the access token you get using the app. For more details, read the Access Token App Privacy Policy.
Step 3. Configuration of your Instagram feed
Go to Online Store → Themes and click Customize next to the theme you added code to in Step 1.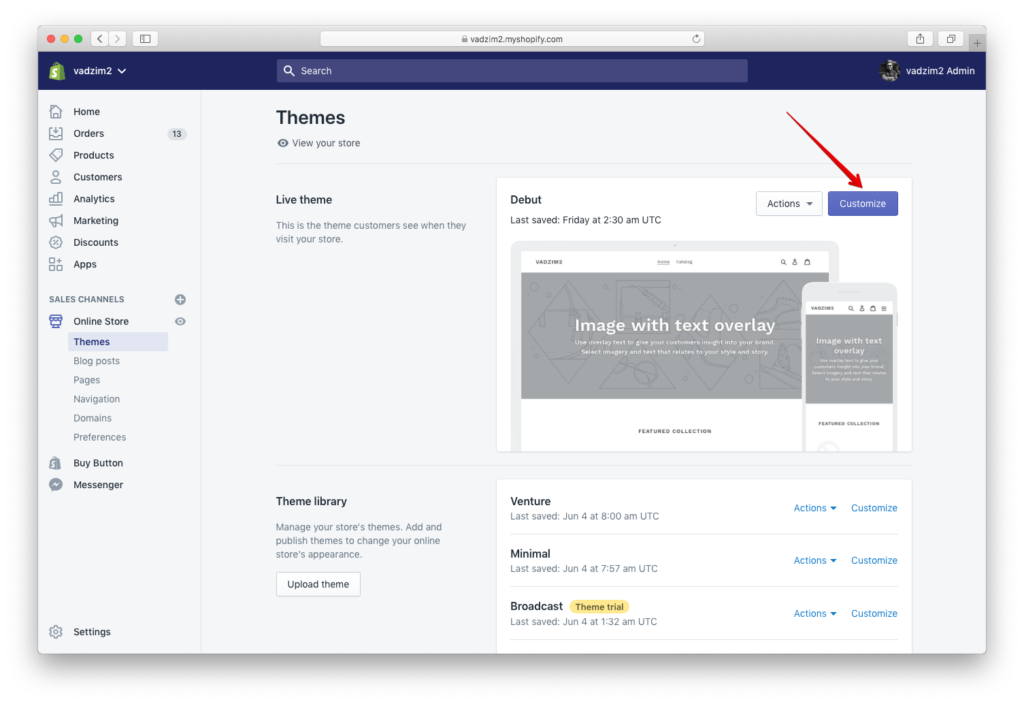 2. Click Add section.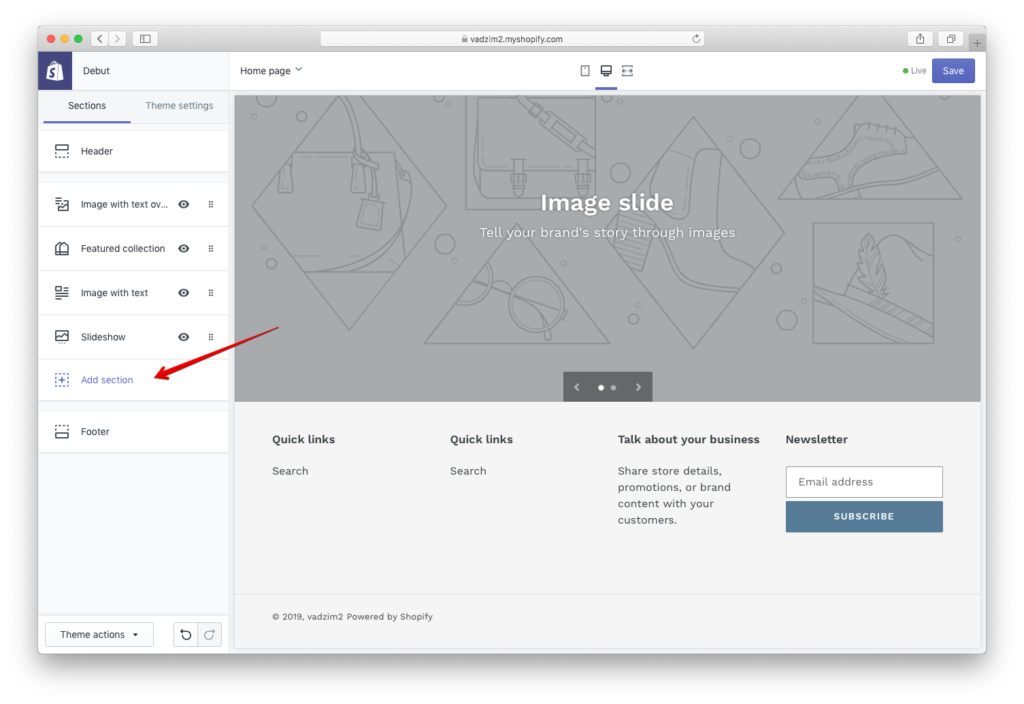 3. In the sections list, find Instagram feed and click Add.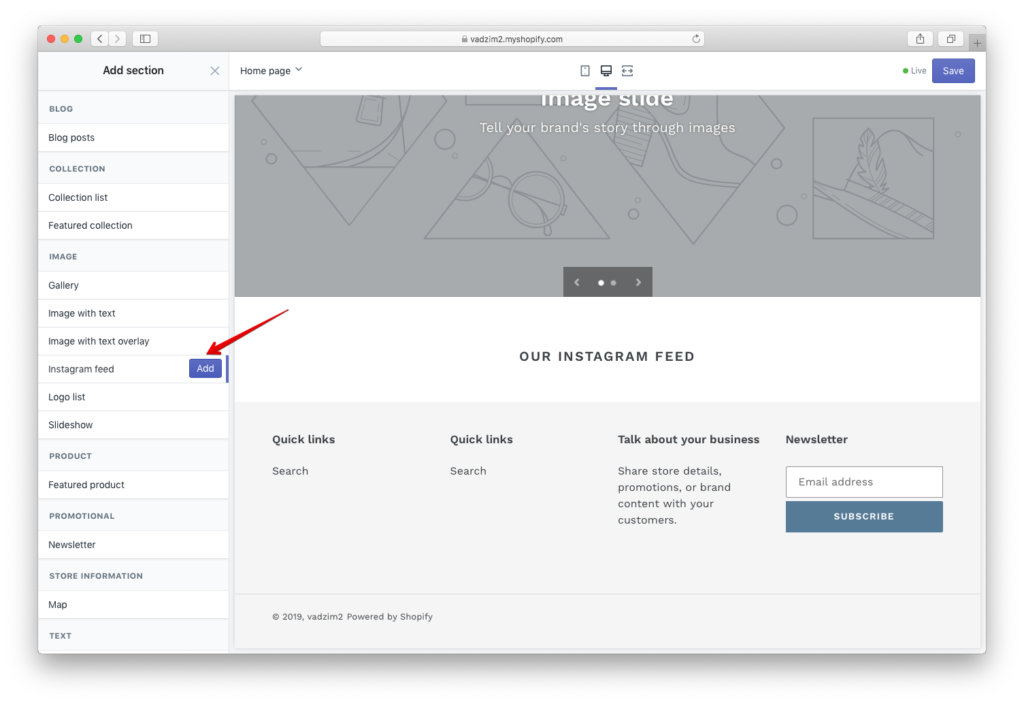 4. Go to this section from the general list and add the access tokenyou obtained in Step 2 to the corresponding field.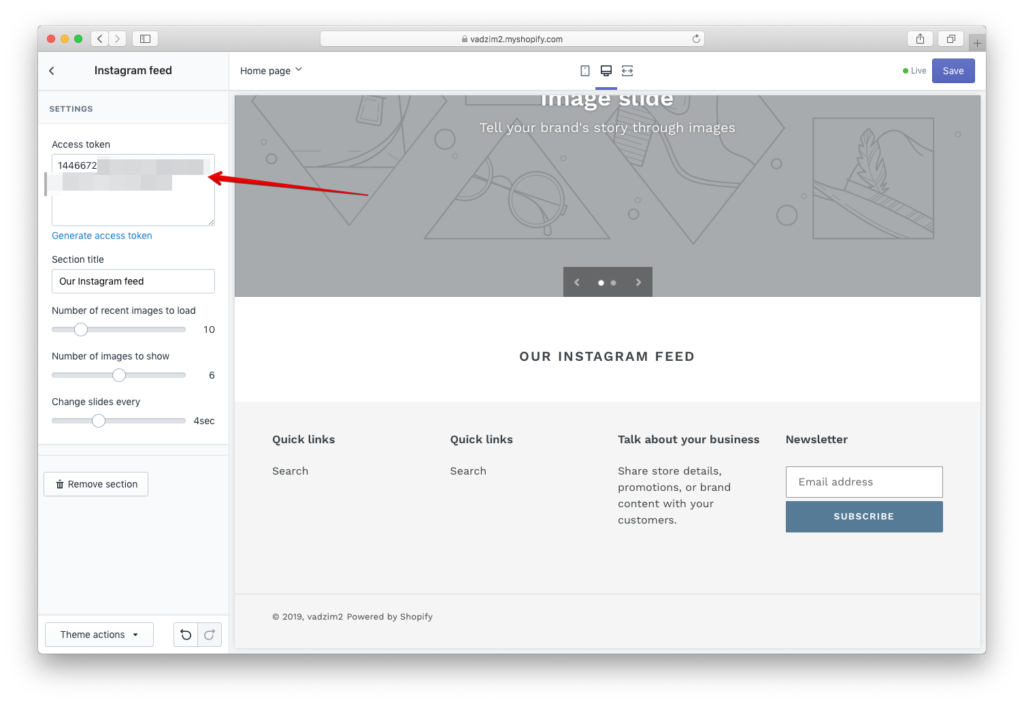 5. Don't forget to configure the Instagram feed according to your preferences. The free app enables you to:
Set a name for the section,
Specify the number of images that will get loaded from Instagram (the last added ones),
Set up the number of images on one slide, as well as
Specify intervals for gallery slides changes.
6. Click Save and open your Shopify store's main page to see the Instagram feed we've just added.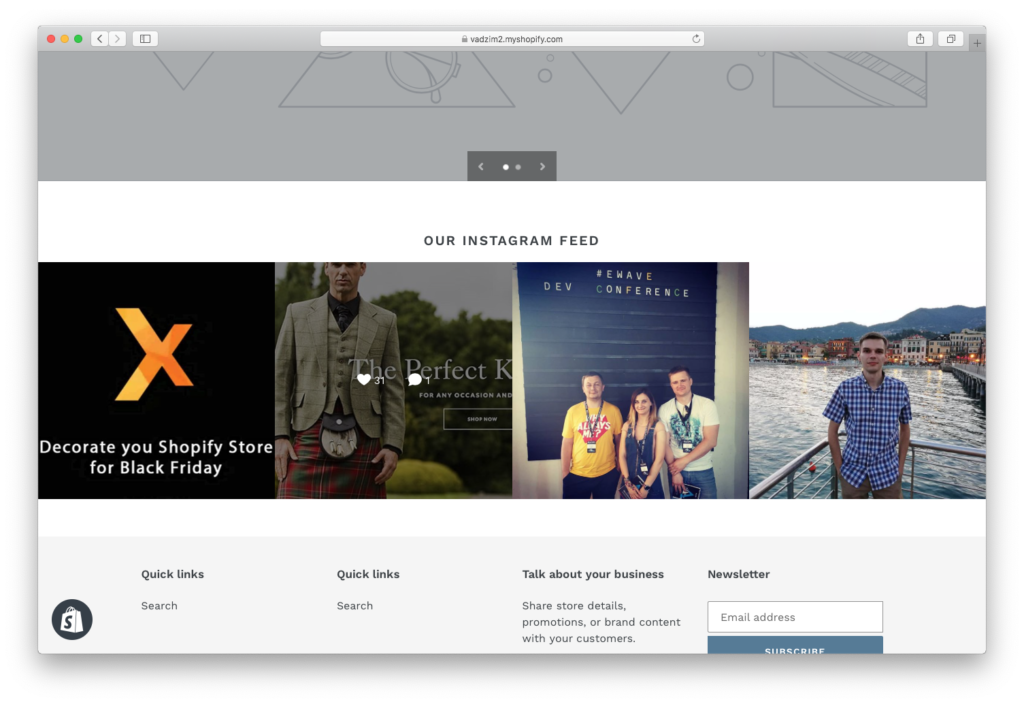 ---
That's it! We hope this solution works for you just fine. Should you have any difficulties or questions, please leave us a comment in the comments field. We will be happy to assist!
(Visited 19,400 times, 22 visits today)