Although MageWorx Shopify Department is yet a baby, 2019 was a fruitful year for the team. It was full of new challenges and achievements.
As we look back, we'd like to share the major highlights of the year gone by. And thank YOU, our customers, for the support, feedback, and trust in our products and services. That is you who make MageWorx what it is today!
With that said, let's overview the company's achievements in 2019.
MageWorx Releases Four New Apps for Shopify

The release of the app took place in early 2019. The solution allows merchants to enrich the core Shopify functionality with the possibility to effortlessly generate and set up quantity discounts for the shoppers.
The technique comes in especially handy for merchants who have wholesalers and VIPs as segments of the customer base. The Volume & Tiered Discounts Kit allows incentivizing such shoppers' purchases by creating flexible pricing schemes for either all store products or manually selected ones. You will be able to set up specific sum/fixed/percentage volume discounts for such customers and inform buyers about the available tiers with the help of beautifully-styled tables.
Moving from general to specifics, the app enables you to tweak tier pricing conditions. Thus, volume discounts can be applied if shoppers meet all/any of the set conditions only (conditions priority can also be specified).
Additionally, with the help of location and time targeting, you can specify how many days the offer is available for, as well as run location-specific volume discounts promotions.
While Savvy Cube is new for Shopify, the solution was initially launched in 2015 and has won prestige among Magento 1 and Magento 2 users already. From 2019, following multiple requests from our Shopify customers, this SAAS solution is now available for Shopify merchants. Specifically, the app empowers businesses to:
have easy access to accumulated data & reports about your multiple stores (with a possibility to analyzed those stores either combined or separately),
see how your business is doing from the beautifully visualized and easy-to-comprehend dashboard,
track key eCommerce metrics and see how they change over time,
export data,
save reports,
schedule email reports to you, your customer(s) or client(s),
get forecasts, and so much more.
Savvy Cube integrates with Google Analytics and PayPal. Thus, no data gets lost or untracked.

'Never miss a sale'. The Pre-Order Autopilot app has been tailored to help Shopify merchants earn even when their products get out-of-stock. The app automatically replaces the 'Add-to-cart' button with the 'Pre-order' one. Thus, your shoppers get to pre-order items that are out-of-stock, while the order purchase flow remains regular.
Are you running a Shopify-based store in a language other than English? No problemo, the app enables you to change the text of the button to any required value easily. Additionally, you will be able to add custom text under the 'Pre-order' button and, for example, consequently inform your customers about the dates the items are expected to be back in stock.
With no coding skills required, the app works out-of-the-box. Naturally, our support team is always ready to help you install any app gratis in case of any difficulties. All you need to do is submit a request at apps@mageworx.com.
Despite being a freemium app, the Delivery Date & Time Suite allows expanding the default Shopify functionality significantly. The solution adds the possibility to choose a preferable order delivery date & time for your shoppers. Additionally, a comments field will become available to your buyers, where they can specify the order delivery preferences.
Besides enhanced customer experience, the Delivery Date & Time Suite improves your order management flow. You will be able to manage working days and orders quotes for each day effortlessly. Moreover, with the help of delivery restrictions, Store Admins get to add blackout days, use product tags, and hide the delivery date option when required, and so much more! All the functionality is available free of charge.
Charity: Helping Kids
That's certainly not something we do to boast of, but this company initiative must be included in MageWorx highlights reel.
Over the last five years, every Christmas, MageWorx contributes to one of the Belarusian Orphanages. Traditionally, the kids write letters to Santa Claus for gifts. We take credit to ensure all 84 boys and girls receive what they wished for.
This year was no exception. We visited the orphanage and made sure Santa Claus came with us and brought the Christmas gifts on the kids' wish lists!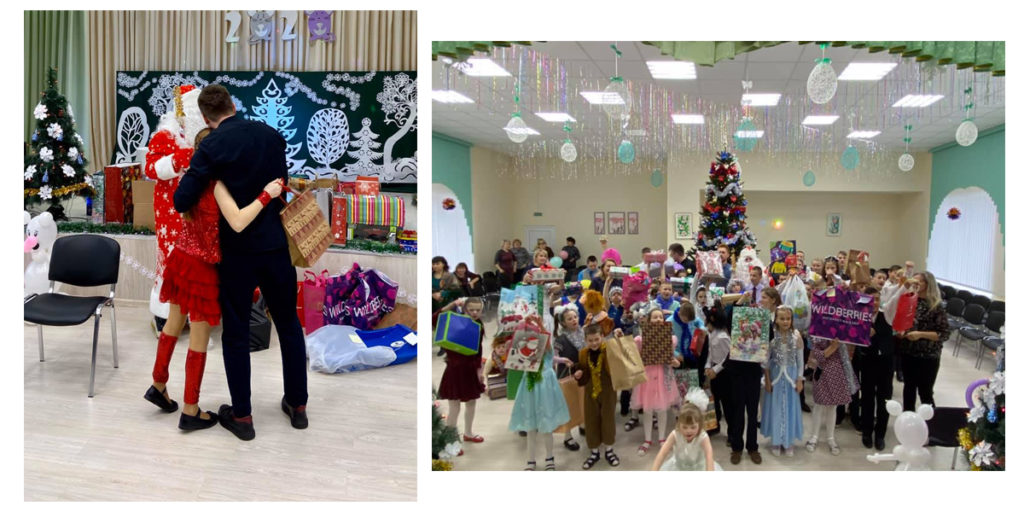 ---
Summarizing the results of the year, 2019 was certainly a productive year for the MageWorx Shopify Department. Thank you for helping us make it all happen!
The further the better!
(Visited 82 times, 1 visits today)