Valentine's Day is one of the biggest shopping seasons. In 2019, the holiday's spending beat the previous records and reached $20.7 billion. No wonder that retailers use all possible marketing activities for Valentine's Day to anticipate it. Like brick-and-mortar store owners, who use different decorations inside and outside, make holiday-themed window displays, etc. to attract buyers and remind them of the upcoming 'Love is in the Air' Day, online merchants can implement this decoration idea on Shopify-based sites.

Read on to know how to make it real without much effort.
Did You Know That
Almost one-third of Valentine's Day shopping is done online for the convenience of ordering. Moreover, online customers are likely to spend up to 30% more on their purchases than buyers of brick-and-mortar stores.
According to Nextopia, in the week before Valentine's Day average order value of stores improved by 11% based on 500 million shopping experiences on the holiday, and total conversions increased by 24%. It's a great impulse to prepare e-stores properly to be able to get these benefits. The best way is to show and spread your love to customers with appropriate decorations and attractive offers.
Valentine's Day is not only for beloved. According to Business Insider, over 9 million customers buy gifts for their pets and their spending is about $700 million. Moreover, 11% of those who don't celebrate the holiday buy themselves something special, 9% meet with family or friends, and 4% make purchasing of 'anti' Valentine's Day gifts.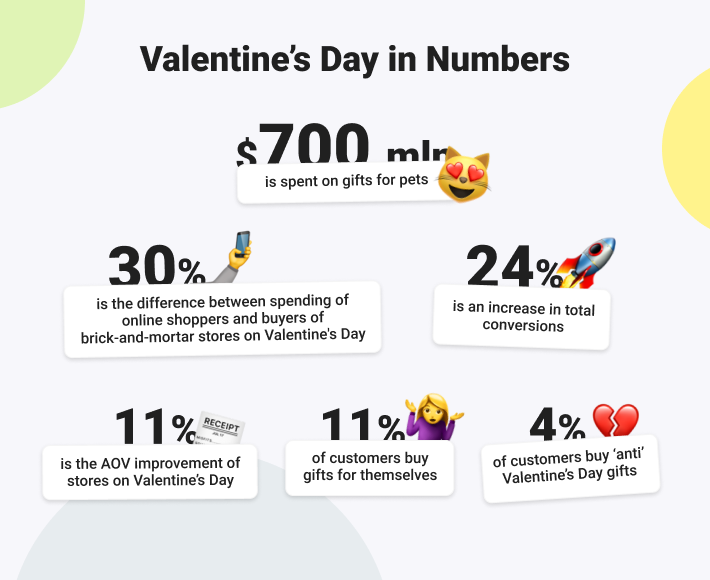 Thus, on Valentine's Day, any buyer should be able to find something in store. So, in spite of the range of goods, any retailers have an opportunity to sell their products this holiday. Coming up with the right message and Valentine's Day spirit, it can be possible to offer almost anything.
Holiday Decorations App
2-day free trial
Site decorations for any promotion & holiday!
Give Your Site Valentine's Day Look
Adding some romance to your Shopify store and showing your customers a bit of love can result in boosted sales, increased revenues, and lifelong relationships with your followers. Holiday-specific decor customization with banners, colors, fonts, backgrounds, photos, and graphics, etc. will spice up your e-store on Valentine's Day.

Quick Holiday Effects by MageWorx allows decorating your Shopify-based site easily. It's not only an easy and quick method to give your site Valentine's Day look, but also the surest way to create a certain mood for your buyers.

The plugin allows using your own images for any effect that will undoubtedly make your store, unlike the others. Moreover, all the holiday effects can be displayed or hidden after a certain period of time, on various devices, with different speed and intensity, etc. So, they should be set in such a way not to worsen customers' Valentine's Day shopping experience.

With the app, you'll never forget about holiday store decoration as it's possible to create Valentine's Day decorations in advance and set the time when they should be applied.
Thus, your site will be automatically decorated on a certain date with the effects that are compatible with any Valentine's Day Shopify theme.

With the help of some holiday effects listed below, you will create a Valentine's Day mood and entice your buyers for shopping in your store.
Valentine's Day Colors
Every holiday is associated with certain colors. For St. Valentine's, they are red and pink, all their possible shades and variations, such as coral, salmon, lavender, pastel, and rarely blue. To 'Valentinize' your Shopify store, use these colors for images, animations and various effects at the storefront or to highlight certain goods.

At Party City, for example, customers see red-colored eye-catchy pictures as the main page loads. Such a bright color gives them Valentine's Day mood and grabs their attention.
Holiday-Themed Imagery
As the theme of Valentine's Day is 'love', you can use it in your own images to decorate your site. Otherwise, you can select from those suggested in the app. The more thoroughly thought and creative images are, the more chances online shoppers will stay longer in your store.

Take a look at the Valentine's Day image of Woops!. The retailer not only created it in the holiday colors but also added the products.

At the same time, Hallmark uploaded Valentine's photos of all those celebrating the holiday decorating them with hearts and showed an opportunity to find something for any gift recipient in the store. It sounds attractive to customers who want to save time and effort and to buy all the presents in one place.

Tattly has added an extraordinary animated image to their site, signed 'Together like…' There, they illustrate different things that match together. For example, there are two parts of avocado, macaroni, and cheese, etc. That looks funny and eye-catchy.
One more way to add festivity to your Shopify store with the app is to decorate it with holiday-themed header and footer. It can be hearts, cupids, bows and arrows, gifts and cards, love letters, or upload an image of your own. The lovely garnished store is a first step for attracting Valentine's Day gift-givers.
'Love is in the Air' Falling Effects
The plugin enables you to decorate your Shopify-based site with Valentine's Day falling effects. It's not necessarily that it should be hearts. You can influence your customers' holiday shopping mood with funny and unusual elements falling through the screen. For example, you can upload a header with clouds and set up falling arrows or love letters. Hardly any buyer will pass by.
Thematic Cursor Icons
When preparing your store for Valentine's Day, don't forget about the cursor. It can become a nice decoration on your site. You can choose it to be in the form of heart, arrow, kiss, etc.. No matter what item you choose, it should entice customers to make purchases in your store.

To sum it up, the significance of Valentine's Day can't be diminished. Even though the number of gift-givers is getting fewer, there is still greater spending. So, it's crucial to prepare your store for the holiday by decorating it, making relevant suggestions for Valentine's Day gifts, and implementing various Valentine's Day marketing ideas.
Wrap up
Every holiday gives certain feelings and emotions to buyers. By touching these feelings, you can get customers' loyalty and retention in return. When you decorate your store for Valentine's Day, you make your buyers feel love and care. Undoubtedly, that will affect your sales and profits. To achieve these goals easily and quickly, benefit from the Quick Holiday Effects plugin by MageWorx.

---
Have you already prepared your Shopify-based business for St. Valentine's Day? Feel free to share.

(Visited 336 times, 1 visits today)