AmishBaskets.com is an online marketplace for three Old-Order Amish families who live and skillfully weave high-quality baskets in the Amish community in the American Heartland.
I've talked with Scott and Blake Mooney – the founders of this business – and asked them to share some insights about running a Shopify-based store. Also, they told how our Advanced Product Options app helps their business in creating custom product offerings.
1. Tell us about your experience in eCommerce. How did you get started in it?
The founders of our company have been involved in eCommerce for several decades in different direct sales businesses. We started in the direct mail industry before launching our current online marketplace so of course, since we have always done direct-to-consumer sales, eCommerce has been a natural marketing channel extension.
2. Tell us the story of Amish Baskets store. How did you decide on what to sell and why have you chosen this particular niche?
We started the AmishBaskets.com website to provide our Amish friends the opportunity to continue to practice their generations-old tradition of weaving quality baskets. We built our company to serve as a bridge between their old-world traditions and the way people purchase products today.
3. Who is your target customer?
Our target customers include anyone who is interested in purchasing high quality hand-woven baskets but, more specifically, our typical customers are ladies over the age of 45.
4. Blake, in your opinion, what makes your store special?
We are offering customers located anywhere in the United States the chance to enjoy the honest values available from the Plain People in the Amish community.
In our local Amish community, we operate a common "shipping barn", where the Amish families keep a few of each of the baskets they craft woven and ready to ship. This allows us to deliver handcrafted baskets to a customer's door within a week of the item being purchased.
5. Could you tell us how our Advanced Product Options app helps you in optimizing the product variants and conditional logic in your Shopify store? (Could you please make a couple of screen-shots that illustrate your products, as well as their variants added with our app).
We have an Amish family here in our community that offers customers the opportunity to order custom made baskets which are crafted specifically to the customer's special sizing and other custom requirements.
The Advanced Product Options app allows our online customers to design their baskets on the fly. Customers can choose from a wide range of available options and your app instantly gives the customer all the specifics and pricing they need to make a buying decision and place their order.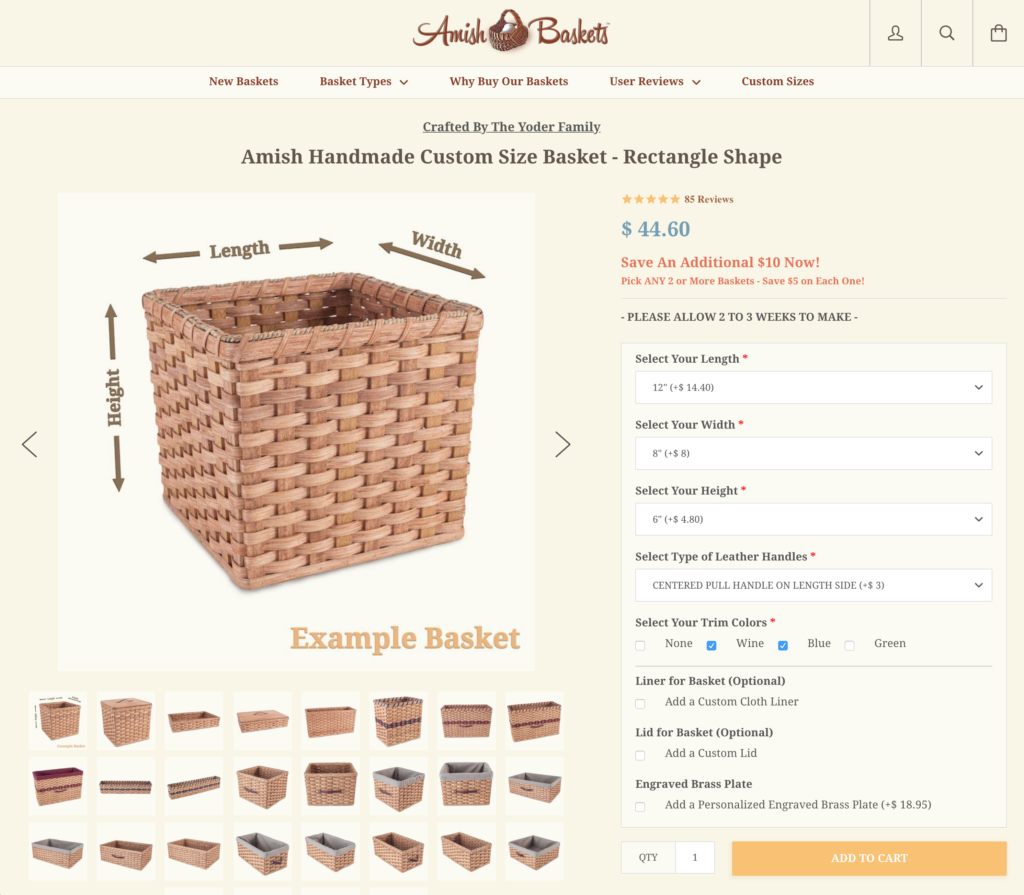 6. What is the feature or part of our product that you or your team use most frequently? Why?
We actually tried another app that was purported as giving us the same functionality as your app and it was a huge disappointment and created many customer service issues.
We are thankful that we have found and are using your Advanced Product Options app because without it, we would not be able to offer the custom sized option to our customers.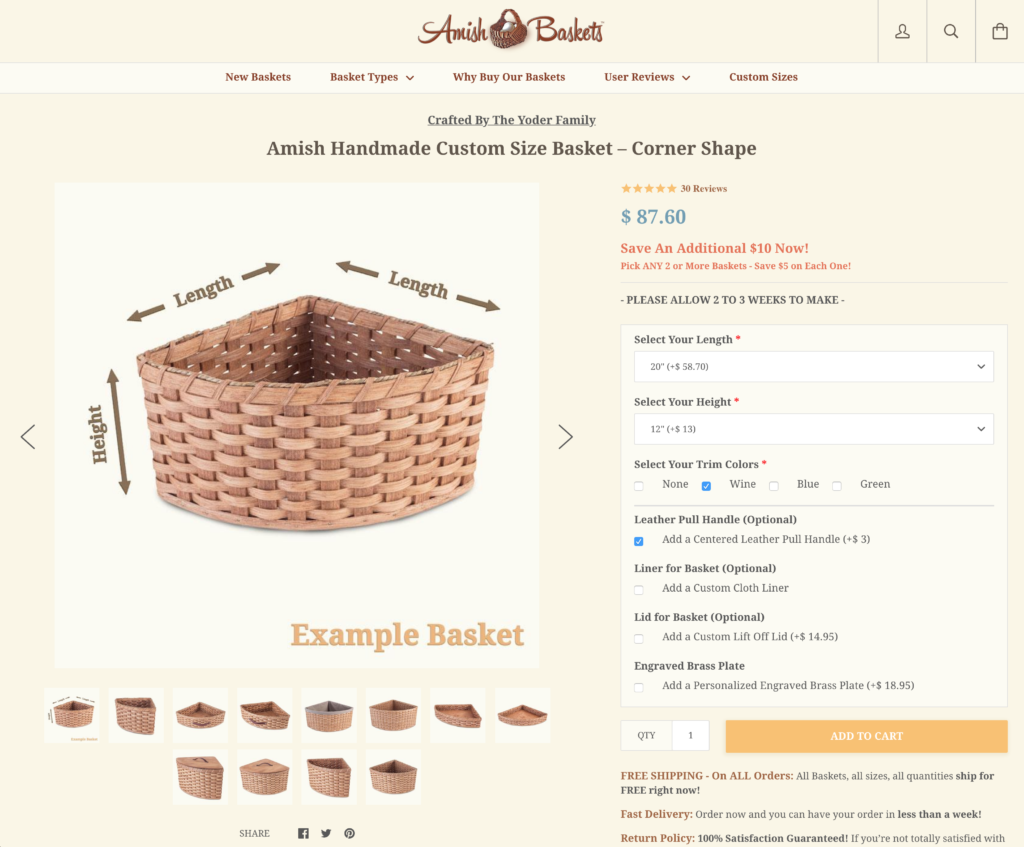 7. Have you worked with the MageWorx support and dev teams? If yes, on a scale of 1 – 10 how would you rate the company's representatives on communication, reliability, and expertise?
MageWorx is a 10 on a scale of 1-10. Thank you MageWorx!
We thank Amish Baskets stores for this interview and wish them the best of luck with her business!
Advanced Product Options App
15-day free trial
Product options without limitations! Ultimate customizability.
(Visited 261 times, 1 visits today)