Maintaining an eCommerce may sometimes require making tough decisions. One of them is migrating your store to the platform that better suits your current business needs. In this article, we consider migration from Magento to Shopify.
Sonny Singh, the Owner, and Founder of The Scotland Kilt Company, has successfully gone through the procedure of moving his store from Magento to Shopify. In this interview, Sonny shares his experience on that and tells how to move with minimum losses.
Vitaly: Sonny, please introduce yourself to our blog readers.
Sonny: I started the Scotland Kilt Company when I was studying at Edinburgh University and looking for an extra source of income to fund my studies. I have always loved the traditional Scottish dress having worn a kilt regularly in the boy scouts as a child. We started one of the first eBay stores which specializes in traditional Scottish clothing in 2005. Business flourished from there, and we soon started our website. We started manufacturing our own kilts in around 2007, and we now make hundreds of tailor-made kilts per year.
Now, I personally run both the online and retail stores. I select the products we sell and make sure they are displayed correctly on our webstores and physical store, ensure pricing is correct and run the warehouse. Quite a heavy workload but I love, both the job and the challenge of retail.
Vitaly: Sonny, please tell us the story of the Scotland Kilt Company. Why did you choose this particular niche?*

Sonny: As I said, The Scotland Kilt Company started when I was still at University in 2005.
A very good friend of mine was a manufacturer of Scottish clothing and suggested we gave it a try. What started as a hobby run from my spare room, quickly flourished into a famous and profitable business.
We launched our own site in 2007 and started manufacturing our own kilts from scratch. Now, we ship worldwide producing hundreds of kilts a year in thousands of different tartans, patterns, and materials.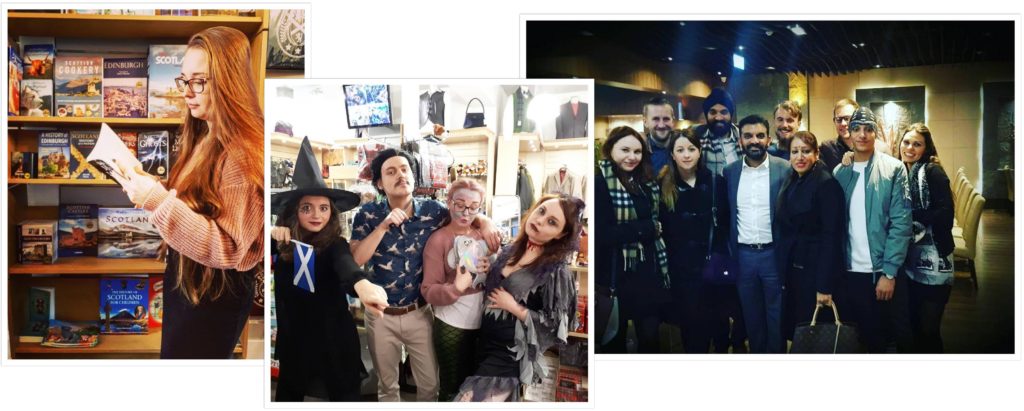 Vitaly: Who is your target customer?
Sonny: We have kilts and accessories for all budgets and tastes. Whether you are buying your first "off the shelf" kilt or you want a bespoke kilt in your own family tartan, we can accommodate you.
Our customers are of all ages, and we receive orders from all over the world!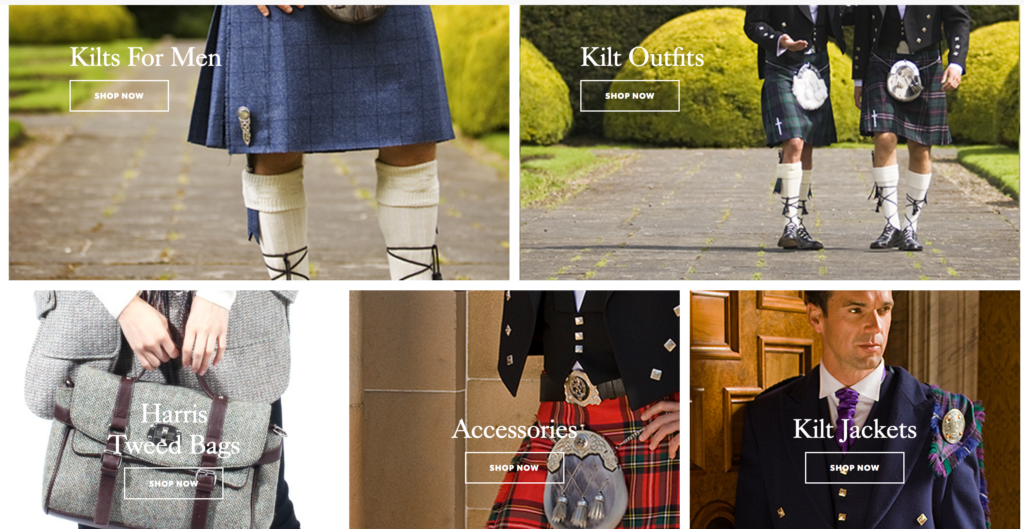 Vitaly: What makes your online store special?
Sonny: Outstanding customer service and a huge range of products are our specialties.
We offer a highly personal service: you can come and visit us or call us, and we will take you to step by step through the ordering process selecting tartan, accessories and additional options for the perfect outfit.
We take great pride in the fact that our customers wear our garments to their special occasions and family functions, and we like to think that we add something to these special moments. We believe, we are the highest rated kilt company in terms of customer reviews on Trustpilot.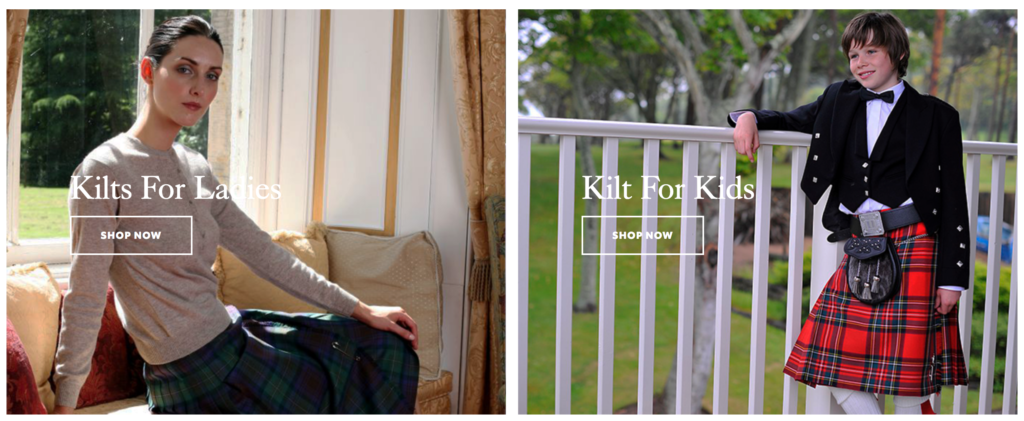 Vitaly: What were the reasons why you started your store on Magento? What were the main advantages of having a store on this platform? Why did you decide to migrate from Magento to Shopify?
Sonny:
"We decided to initially build our store on Magento because of the functionality and scale it provided. However, we soon realized the cost of running the store, and the amount of development work were prohibitive for us. We felt that Shopify would let us scale up our business without those growing pains."
We could provide our customers with all the different options. However, we found out that the platform was difficult to manage, and required a lot of our time and efforts.
We made a decision to move to Shopify after researching the Plus version of the platform. Also, we found a number of similar local businesses that had moved and found it much easier to use than Magento.
Another advantage is that Shopify is also highly customizable, with many apps available to improve the store.
Vitaly: What were the biggest challenges of the migration process? How did you cope with them?
Sonny: The main challenge of moving from Magento to Shopify was achieving the same level of functionality as we previously had with Magento.
This is where Vitaly's team at MageWorx came to the rescue and helped us migrate our custom product options from Magento to Shopify.
Vitaly's team basically held our hand through the switch over process and made sure we got the same features (if not better) than our Magento store.
Vitaly: Let's talk about our solution for custom product options. Could you tell us how our Advanced Product Options has been helping you in your business?
Sonny: Options and variants are extremely important in our business as the products we sell are highly customizable. For example, we sell kilt outfits in thousands of different tartans with hundreds of different accessory options.
"With the Advanced Product Options app, we are able to easily add/edit/manage/remove product options. You can save the different groups of options and update them whenever needed."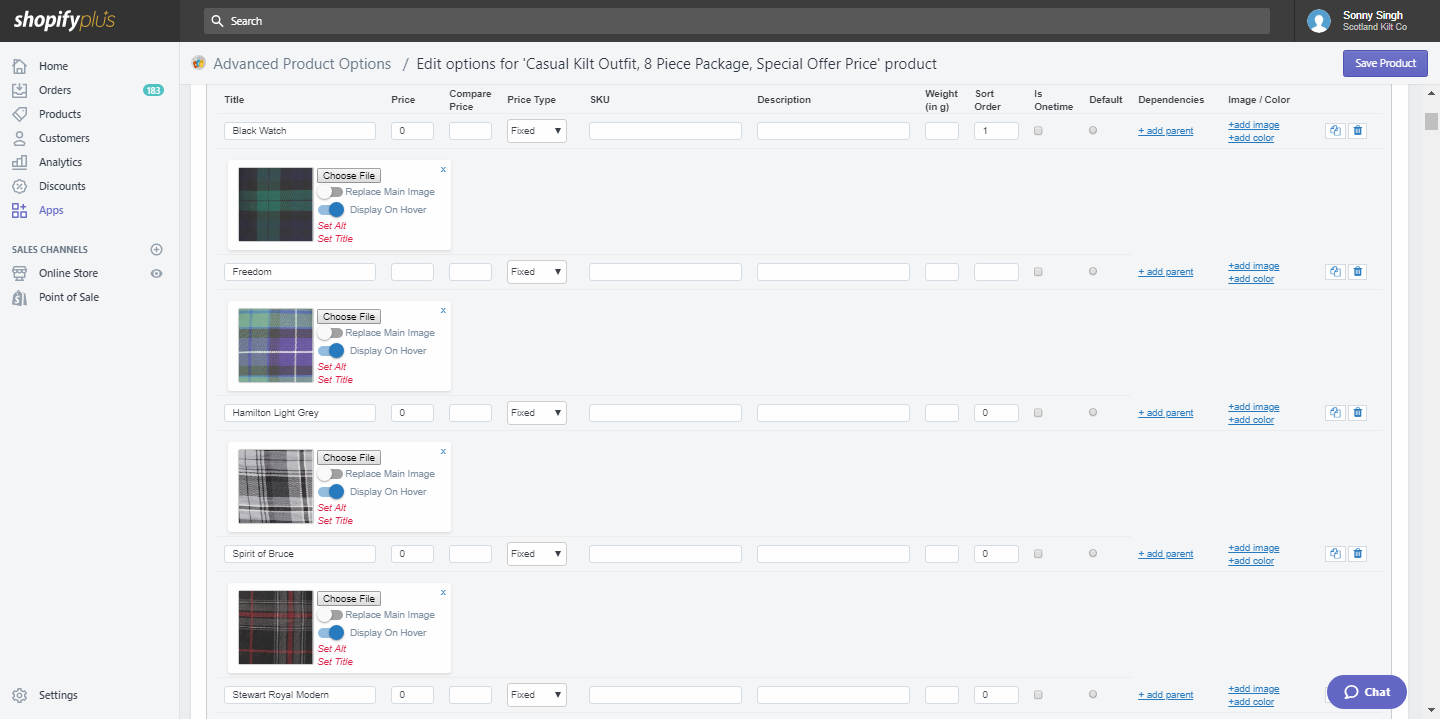 For example, if we have a list of options from a supplier, and the supplier then changes these options, we can then update the list, and all products assigned to this option will get modified accordingly.
This is how our product look with a multitude of options added with the app:

Vitaly: Did you require any customization of our Shopify app after moving from Magento? Were there any features that you had in your Magento store and that were missing in the new one on Shopify?
Sonny: We did require some customization when we moved to Shopify, yes. 

We required a change to the layout of the options, on the product page, which MageWorx helped us with.
Also, the images were also missing when we transferred the options from Magento to Shopify. However, MageWorx also migrated these across with no issues at all.
Vitaly: In general, do you have any feature requests or suggestions for our Shopify app?
Sonny: We did have a request to have options which are stock managed. However, the team at MageWorx told me this was already possible, so we will implement this soon.
For example, if you make a product bundle in MageWorx then each product when ordered is fully stock managed.
Vitaly: Have you worked with the MageWorx support and dev teams? If yes, on a scale of 1 – 10 how would you rate the company's representatives on communication, reliability, and expertise?
Sonny: I would give the team at MageWorx a 9/10 for support.
We thank Sonny for this interview and wish him best of luck in his business!
Advanced Product Options App
15-day free trial
Product options without limitations! Ultimate customizability.
(Visited 618 times, 1 visits today)